EIGHT-TIME MEMBER OF U.S. RYDER CUP TEAM
After winning the U.S. Amateur Championship in 1970, Wadkins joined the PGA Tour in 1972 and was named Rookie of the Year.
In 21 years as a professional he won 21 PGA Tour events including the 1978 PGA Championship and was named PGA Player of the year in 1985.
His career earnings totaled more than $5.8- million.
He finished in the top five of the PGA money list four times and had seven multi-win seasons.
Wadkins was an eight-time member the U.S. Ryder Cup team and Captain of the 1995 team.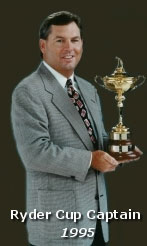 LANNY WADKINS FACTS & FIGURES

CAREER VICTORIES LIST

1970 U.S. Amateur Champion
1972 Sahara Invitational
1973 Byron Nelson Classic
!973 USI Classic
1977 PGA Championship
1977 World Series of Golf
1978 Victoria PGA Championship (Aus.)
1978 Canadian PGA Championship
1979 Glen Campbell Los Angeles Open
1979 Tournament Players Championship
1979 Bridgestone Open (Japan)
1979 Phoenix Open
1982 Buick Open
1982 MONY – Tournament of Champions
1983 Greater Greensboro Open
1983 MONY – Tournament of Champions 1978
1984 World Nissan Championship (Japan)
1985 Bob Hope Desert Classic
1985 Los Angeles Open
1985 Walt Disney World/Oldsmobile Classic
1987 Doral Ryder Open
1988 Hawaiian Open
1990 Anheuser-Busch Golf Classic
1991 United Hawaiian Open
1992 Canon Greater Hartford Open
2000 ACE Group Classic (Senior Tour)

OTHER CAREER MILESTONES

1969,1971 – Member U.S. Walker Cup Team
1970 – Member World Amateur Cup Team
1970,1971 – Collegiate All-American Wake Forest University
1977-79-83-85-89-91-93 – Member U.s. Ryder Cup Team
1982 – PGA Tour vs. Japan
1985 – Recipient Seagram Sports Award
1995 – Captain U.S. Ryder Cup Team

WADKINS EXCELLED IN RYDER CUP COMPETITION

Lanny Wadkins is one of the all-time greats in Ryder Cup history. Along with Raymond Floyd and Billy Casper, no American has played in more Ryder Cup competitions than Wadkins. Floyd, Casper and Wadkins have each competed in the Ryder Cup on eight separate occasions.

Wadkins' personal record in Ryder Cup competition is among America's best. Here's a look at his Ryder Cup record compared to some of golf's all-time greats:

Arnold Palmer 22-8-2
Lanny Wadkins 20-11-3
Billy Casper 20-10-7
Jack Nicklaus 17-8-3
Raymond Floyd 12-16-3

WADKINS LEFT MARK ON PGA TOUR
Over a 20-year period, from 1972 through 1992, Lanny Wadkins won an average of one PGA Tour event per season. His 21 PGA Tour victories ties him with golf greats Gary Player and Craig Wood and betters the likes of Greg Norman, Hale Irwin, Ben Crenshaw, Tom Kite, Nick Price and Curtis Strange.

From 1982 through 1985, Wadkins posted eight PGA Tour wins. While world rankings were not maintained then, Wadkins would have consistently ranked in the top five for a substantial amount of that period.

While Wadkins has posted 21 PGA Tour victories, his 21 runner-up finishes are a testament to the level of golf he played during his career.

WADKINS POSTED BIG WINS OVER BIG NAMES

Many of Lanny Wadkins' most memorable victories came against some of golf's greats on some of the game's legendary courses.

The year before Wadkins joined the PGA Tour, he won the U.S. Amateur Championship at the Waverly Country Club in Portland, Oregon by a single shot over a young Thomas Oliver Kite, Jr.

In 1977, Wadkins left his mark on the Pebble Beach Golf Links, where he won his only major title, the PGA Championship, over Gene Littler. Three weeks later he defeated Tom Weiskopf and Hale Irwin by five shots on the same course to win the World Series on Golf.

In 1979, Wadkins won the Tournament Players Championship over a star-studded field. He posted a six-shot victory over Tom Watson and was the only player to play the TPC at Sawgrass under par for the 72 holes that year.

Wadkins most dominating performance on the PGA Tour came in the 1985 Los Angeles Open, which he won by seven shots over Hal Sutton. His 20-under-par 264 still stands as the tournament record.